w c chair bracket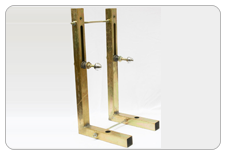 We are leading manufacturers and suppliers of w.c.chair bracket in Mumbai,India

Shree Ganesh Metal Works holds a special place of various industries, companies and residential groups for its premium quality of chair brackets. With more than 35 years of service in the industry, our products are acknowledged for its durability and heard-wearing qualities. In Mumbai, India our products such as vacuum pumps, chair brackets, cast iron brackets and W. C chair brackets are demanded the most.

We manufacture and export high quality and huge quantities of W. C chair brackets. They are supplied in various shapes and sizes according to the customized needs of clients. They are available in varied shapes, designs, sizes and qualities to suit the needs of domestic and international clients. The W. C chair brackets are corrosion and abrasion resistant, and don't rust even after prolonged exposure to water.