Big Bolt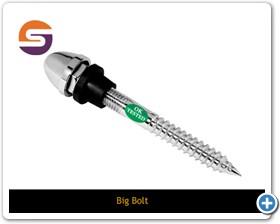 We are leading manufacturers and suppliers of bidet bolt in Mumbai,India

We are established manufacturers and suppliers of bidet bolts used in the installation of good quality of sanitary fittings and pumps. As one of the leading manufacturers of bidet bolts in Mumbai, India, we use high quality raw materials and advanced technology for the production process. Having applications in various commercial, residential and industrial sectors, all our products like vacuum pumps, sanitary brackets, cast iron brackets and bidet bolts are acknowledged for its tensile strength, easy installation and longer service life.

We provide a wide range of Bidet bolt or screws that are majorly used by international clients. These are available in huge quantities for bulk fixtures. We have renowned manufacturers and exporters of hard-wearing bidet bolt or screws that are required for sophisticated bathroom and toilets. These are renowned for extremely smooth finishing and corrosion resistant coating that avoids the development of rust due to continuous exposure for water.