Cascade Cantilever Brackets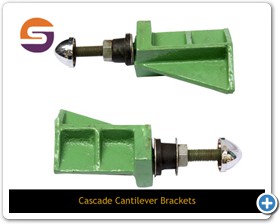 Common concealed cascade cantilever bracket for all makes commode. Chair bracket replace we can use cascade cantiliver also, for better strength and result. This product can be bear heavy weight of wall hung commode.
We the manufacturers of a variety of robust Cantilever bracket sanitary fittings. These brackets are designed by our experienced engineers according to the needs of people that tender great endurance and quality. We are manufacturers and exporters of a variety of sanitary and pump fittings that conform to international norms. Superior quality of raw material is used in production process of these fittings which give them huge strength to sustain heavy weights. The Cantilever bracket is available in specific proportions, designs and sizes with resistance against corrosion, high strength and long lasting traits.
Common Concealed Bracket For Cascade Indian & Imported Wall Hung W.C